By Tara C. Pray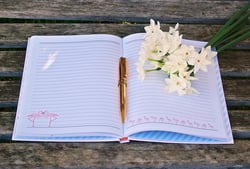 She walked into my office, with swollen, red eyes and tear stained cheeks. It was our second time meeting after some painful marital issues sent her to seek counseling. She felt confused about the unfolding of her marriage and overwhelmed by the various emotions her new reality was triggering. She struggled to cope and to make sense of what was happening around her and to her.
The stories of emotional pain were a common theme in my previous work as a therapist. Relationships with others and the relationship with one's self seemed to be where the greatest struggle existed for people who came to see me. For every person who came into my office, one of the most important things I could do was to hold space for them as they navigated through the peaks and valleys of their lives.
Holding space required that I create an environment that allowed for them to know and feel that they were on safe and sacred ground. The 60-minute session was an offering of sorts where the freedom to express their deepest thoughts and feelings was encouraged. It was a space where a person's value was acknowledged, their strengths highlighted and judgement ceased to exist. This space was where sadness and anger could be verbalized and triumphs and newly achieved insights were celebrated.
Journal writing offers us each the same opportunity to learn to hold space for ourselves. While having someone to talk to about the challenges in our lives is important and necessary; it is also important to be able to hold space for ourselves. Our journals is where we can do this.
In order to hold space in our journals, here are a few tips to consider:
Listen. As a therapist, I listened on three levels simultaneously. I listened to what was being said, what was not being said and to what the person was communicating through their body language. Learn to listen to not only the words you say out loud, but also to the ones you say to yourself about yourself. How are they being conveyed on the page? Listen to what your body says in response to your words and actions. What is it that your body wants to tell you?
No judgement. I often reminded clients that there is no right or wrong way to feel. Your feelings are simply your feelings. You are allowed to feel whatever you need to feel for as long as you need to feel them. It is important to be able to reflect this in our journals. Write from a place that is void of placing labels and limitations which can become a hindrance to personal growth. Write without judging your thoughts and feelings but instead learn to accept them for what they are. Try to see them as opportunities to learn the lessons they want to teach you about yourself and your relationship to others.
Ask questions. In a session, I would ask questions with three intentions in mind; to gain clarity about something said, to encourage a person to go deeper in their thinking or to have them consider a new way of looking at a particular issue. Asking questions in our journals allows us to dig deeper by peeling back the layers of our thoughts, feelings and actions. Questions also allow us to get to the core of the issue we are writing about. Make sure the questions are framed from the perspective of wanting to know yourself better and not from a place of judgement.
Open and honest. Therapy is most effective when a client is committed to being real and doing the work. Being real means the willingness to be open and honest and it is not necessarily with me as the therapist, but with themselves. Journal writing is also most effective when we are willing to be vulnerable and look closely at the things about ourselves and our lives we would rather keep hidden. What have you been avoiding writing about and why?
Do what's required. I would often tell clients coming to counseling is the first step, but the real change occurs when they take what they have learned about themselves and put it into action. What are you learning in your journals? What actions have you taken to make the changes you seek? Discovering new things about ourselves and then applying what we have learned is where we see evidence of our personal growth.
Learning to hold space is an ongoing practice that requires a willingness to fully show up for ourselves. Join me and other fellow journal writers as we hold space for ourselves in the Pen*Paper *Write Journaling Series. This series is a year of theme based, guided journal prompts aimed at discovering, exploring and connecting deeper to your dreams and to yourself. The theme for February is Body Love.
Tara C. Pray is a writer at www.wordsbytara.com, where she spends her time writing words that matter; words that will empower women to pursue their God inspired dreams and create lives that are based on purpose and meaning. You can also find her on Instagram @tpraywrites.