About Mari L. McCarthy
Therapeutic Journaling Expert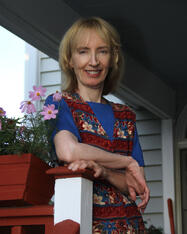 Hi, I'm Mari L. McCarthy, Founder and Chief Inspiration Officer of CreateWriteNow.
Over 20 years ago, I lost the feeling and function in the right side of my body. Multiple Sclerosis (MS) took them from me. The doctors weren't really helping, so I began a journey to take control of my health. After doing some research, I tried a writing therapy which I call 'Journaling for the Health of It.'
It wasn't easy for me. I had to learn to write with my left hand. But I dedicated myself to daily ACTION and began a journaling practice known as
Morning Pages
. I never could have anticipated how powerful this process would become.
As I continued my writing practice, my MS symptoms improved. But more importantly, I uncovered, discovered, and recovered my True Self and even tapped into talents I never knew I had. Best of all, I have a kind and compassionate relationship with My Self and inner serenity has replaced my academy award winning self-sabotage.
My transformation is nothing short of radical. Due to the power of therapeutic journaling...
The right side of my body is now 75 percent functional
I take ZERO prescription drugs, and haven't for 15 years
I stopped all over-the-counter medications eight years ago
I dumped my health insurance … I haven't needed it for over 15 years
I've been 100 percent healthy for six years, no sign of any illness
It's quite a leap from my prognosis all those years ago. And it all happened, because I made the decision to just go for it!

To be honest, I've found the benefits of a focused journaling practice to be limitless. It has guided and supported me in making major dietary changes: no gluten, no dairy, and no processed foods. I am able to write with both hands now, and thanks to my daily commitment to journaling, I routinely sleep through the night for seven or eight hours.
My energy increases each day. And my Journal and I are currently work, work, working on accomplishing my 2018 Goal—Manifest the Healthiest TeamMari!
Why Wait? Write Your Way to the Life of Your Dreams ...Starting Today!
I used the exact same journaling skills I now teach to create my perfect life. I live in a gorgeous beachfront home in Boston. And I have the freedom, flexibility and physical ability to indulge in all my passions.

These days you'll find me writing, singing, reading, walking my beach, meditating, practicing photography, enjoying organic dark chocolate, cheering on the Pittsburgh Steelers, and raising roses and consciousness!

I literally created ALL of this with Journaling Power, and now I live life on MY terms!

Before uncovering my true self, I didn't even acknowledge my passion for music. I'd never dreamed I could become a singer. Well goodbye to limits—in 2015 I released my third album Lady With a Song, And I'm currently working on my 4th album, Practically Romantic, all songs that I have written!

But my most fulfilling accomplishment of all is sharing my knowledge with people just like you. I really hope you won't wait another minute to begin your amazing journey.

#JustWriteON!

Buy Mari's award-winning international best-seller,
Journaling Power: How To Create The Happy, Healthy Life You Want To Live
Right Now!

Trust the World's Leading Authority to Help You
Heal, Grow and Transform Your Self with Journaling Power!
Contact Mari and Get Started Write Now!