By Janece Herrington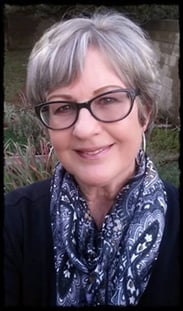 In 1969, for my 12th birthday, I received my first "Diary". A hard-bound book covered in daisies, it contained pages of blank lined paper and, most importantly, a lock and tiny key.
Diaries!
That place where your secrets were kept, secrets needing to be protected from the watchful eyesof parents and snoopy little brothers. I can still see myself laying on the bed, my bedroom door closed, filling pages with bigloopy lettering made in No. 2 pencil. I wrote about other girls, first periods and first bras. I poured out my heart when I wasn't invited to a party. I chronicled my parents fights, and that night I accidentally discovered them naked in the pool.
I wrote about boys. A LOT!
There was something exciting about each new diary started. They whispered of POSSIBILITIES. NEW BEGINNINGS. FRESH STARTS.
I'm not sure when diaries became 'journals'. Little hard-bound books were eventually replaced by steno pads and spiral notebooks. It didn't matter what they were called, though. That FRESH START feeling didn't change.
In the 70's, I wrote out all the angst and longing of a teenager that didn't feel like she fit in and so desperately wanted to. In the 80's, my journal absorbed the crazy-hot desire of a single 20something trying to make her way in the world, where I often waxed poetic. Words poured out of me, filling empty hours and a deep-rooted need for self-expression. I wrote about other girls, who was dating who and the heartbreak of not being invited to a party. I chronicled the liberation of not living under my parents' roof.
And I wrote about boys. A LOT!
It was after my first child was born in 1986 that my "Morning Time" was also born. Working full time, I found it easier to stay awake after his 5 am feeding than to go back to bed for an hour. It didn't take long before I discovered the treasures to be found in the quiet solitude of Predawn. I would sit at the dining table with my coffee and journal, gazing out the window while body and mind awoke. I watched the changing seasons of my life reflected in the big Maple tree in our backyard, and I wrote and prayed. Intentions were set for the new day, my head and my heart purged, and blessings counted. During the brief periods when I didn't practice it, I felt the difference – and not in a good way.
30 years later, I can still be found in the wee hours with my journal and coffee although, thanks to menopause, it's more like 3 a.m. (I wrote through THAT, too!). While the hour and view has changed, my journaling journey hasn't. It's still the best friend ready to listen without judgment, the husband who never zones out, the psychiatrist who doesn't requirement payment or an appointment. And perhaps, most profoundly, it's the Ear of God that's always Present.
After nearly 50 years, I've journaled my way through marriages, divorces, births, deaths, and more sorrows and joys than I can count. Most recently I wrote my way through a breast cancer diagnosis and 18 months of treatment. Frankly, I don't know how I would've survived without it. Writing is healing. It's cathartic. It's revelatory. It's doesn't care if I'm happy or scared, strong or weak, or blonde, bald or gray (smiling).
A journal is unconditional in its acceptance of all the Flawesomeness of my life. All I have to do is show up – authentically and faithfully - to reap it's magic:
The Alchemy of my Soul.
About
Janece Herrington, wife, mother and grandmother, has spent most of her 60 years writing for personal enrichment as well as professionally in her role as Marketing Manager. After undergoing 18 months of treatment for breast cancer, Janece "retired" in April of 2016 and now spends her time in several entrepreneurial endeavors out of her home office. A part-time bookkeeper, her main role is Creatrix of Hope Totes – vintage inspired market bags she started sewing while undergoing chemotherapy in 2016. Her full story and a portfolio of her bags can be found at www.MyHopeTotoes.com. An avid foodie, Janece loves cooking up kitchen magic for her family and friends using recipes from her collection of vintage cookbooks. A blogger since the early 2000s, Janece also enjoys gardening, coloring and scrapbooking. She lives in the city of Orange, California with her husband, daughter, 8 year old grandson and 3 year old grandpuppy, Ranger.
Do you find yourself dwelling on missed opportunities? Or perhaps you're having trouble making sense of it all? Please download our free ebook, CreateWriteNow's Expert Guide to Therapeutic Journaling, shows you journaling can provide the tools you need to achieve the happiness we all deserve.