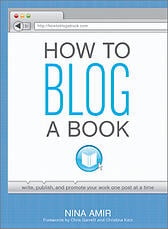 We're pleased to host Nina Amir, author of How to Blog a Book. Nina's the star of the current Women-on-Writing Blog Tour, and she's a passionate advocate for her method of blogging to create a book.
Blogging and journaling are not the same thing, but they are both fabulous tools for building a wealth of content – if usually for different purposes. Though a journal is very often private, as we've often pointed out here at CWN, using a journal to record and document experiences can be a really smart investment in your future.
I'm delighted that Nina's sent us a post about journaling and writing a book. Perhaps her suggestions will inspire you to action!
Thank you Nina!
How to Journal Your Way to Published Author Status
By Nina Amir

Humans have had an inclination to write down their experiences almost since the beginning of time, it seems. We've kept diaries and journals, writing in them regularly, mostly for our own purposes and doing so, for the most part, with the express intention of keeping them private.
The advent of the Internet Age, however, changed that. Suddenly it became possible to keep an online journal. This meant we could actually write a daily diary and make it public for the whole World Wide Web to read. The earliest bloggers called themselves diarists, journalists, journalers, or escribitionists, according to Justin Hall, who began eleven years of personal blogging in 1994 while a student at Swarthmore College, and may have been one of the first to keep an online journal. These "web logs" were later called "blogs." Today, in most cases most blogs tend to look much less like online diaries—but not all. Some bloggers still use their blogs as daily journals and write about their lives and experiences.
As we know, sometimes private diaries and journals become published books. Maybe the most famous example of this is The Diary of Anne Frank. The diaries of Andy Warhol also were published postmortem.
Unfortunately, most journals are not filled with the stuff books are made of, but they can be. Instead of writing a stream of consciousness, morning pages consisting of a brain dump of your most current fears, complaints or mishaps, or trying to act as your own therapist—all good uses for a journal, mind you—you can focus your journal on a specific topic.
In other words, decide to explore a topic thoroughly via your journal. To do so, you'll need to create a journaling content plan before you begin. I know this concept goes against the grain for many journal lovers who just want to write about whatever comes to mind that day; after all, that's kind of the point of journaling. Bear with me and just consider trying it for a short period of time—maybe a few months.
One you've generally mapped out your content, begin journaling. When you have finished exploring your topic, you actually may have journaled a book!
Here's an added twist. Start an online journal for this project—a blog. When you have finished exploring your topic via your blog, you may have blogged a book!
Need some ideas for how to journal a book? Consider exploring:
a specific period of your life—you might end up with a memoir
a work situation and what you know about that job—you might create a manual on how to become a nurse, a computer salesperson, a sports coach, or a seamstress
why you love gardening and your experiences in the garden (or any other hobby you might enjoy)—you might write a book of essays for gardeners filled with little tips and tools others who enjoy this hobby can put to use
how you dealt with a loss—you might compose a prescriptive nonfiction book that helps others
what it was like home schooling your children—you might develop a story to which others parents can relate and learn
You could journal a book by hand or in a word processing program on your computer and keep it private. I'd suggest you try an online journal—a blog. As you write and publish your journal entries on the internet, you will gain fans—readers. In this way, you promote yourself and your potential book project. If your blog gains a lot of readers you might attract a literary agent or a publisher; then your efforts will be rewarded with a publishing contract. If this doesn't happen but you have, indeed, garnered a good number of readers to your blog, you can self-publish your online journal and sell it successfully to your fans.
More and more blogs are being turned into books every day. Why shouldn't your online diary be one of them? There's no need to wait until you are dead for someone to decide your journals are worth publishing. Set out to journal a book and get it published while you are still alive to enjoy the accomplishment.
Learn more about the History of Blogging Here: https://www.broadbandsearch.net/blog/history-evolution-of-blogging
#
About the Author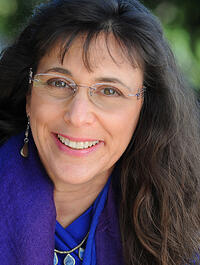 Nina Amir, Inspiration to Creation Coach, inspires people to combine their purpose and passion so they Achieve More Inspired Results. She motivates both writers and non-writers to create publishable and published products, careers as authors and to achieve their goals and fulfill their purpose. The author of How to Blog a Book, Write, Publish and Promote Your Work One Post at a Time (Writer's Digest Books), Nina has also self-published 10 short books. A sought-after editor, proposal consultant, book and author coach, and blog-to-book coach, Nina's clients' books have sold upwards of 230,000 copies and landed deals with top publishers. She is the founder of Write Nonfiction in November and writes four blogs, including Write Nonfiction NOW!, How to Blog a Book, and As the Spirit Moves Me. Find out more about Nina at www.ninaamir.com. Follow Nina on Twitter and Facebook.
Nina's How to Blog a Book is available at Amazon, Barnes and Noble, and Writer's Digest Books.
Review – How to Blog a Book – No more excuses, Mari!
I've always wanted to write a book. Well, at least since I've been Journaling daily for about the past 14 years or so. Since February, I've been back into a daily Morning Pages Practice and my pages have been sending me not-so- subtle messages that my time for writing the ultimate self-help book is write now.
Enter synchronicity and Nina Amir's book, How to Blog a Book: Write, Publish and Promote Your Work One Post at a Time.
First of all, what an ingenious 21st century idea to create a blog to write a book! And Nina's uber comprehensive book covers not only the how to of blogging a book but everything from Book Blogging Basics (Chapter 1) to Driving Traffic (Readers) to Your Blog (Chapter 7) to How to Repurpose Your Blog Posts for Profit and Promotion (!) (Chapter 9). And of course, Writing Your Blogged Book (Chapter 6). Nina even clues us in on how she got her How to Blog a Book published.
I knew this book was for me in Chapter 1 when she asked if I were approaching my book as a writer, blogger or businessperson. Immediately, I said "business person", hoping that was the answer she was looking for.
Nina's response," If you said, "As a businessperson," you've joined the ranks of the most success­ful bloggers and nonfiction writers. Congratulations. In this day and age successful bloggers and nonfiction writers must also be savvy businesspeople.
So my focus right now is Chapter 4, Developing Your Blogged Book's Business Plan for my book (that sounds soooo…), Journaling Your Inner Intelligence (working title) and once I have that firmly in place (another great use for Journaling), then I will go back and reread her book with my purple highlighter in hand. Thank you again and again, Nina!
Do you find yourself dwelling on missed opportunities? Or perhaps you're having trouble making sense of it all? Please download our free ebook, CreateWriteNow's Expert Guide to Therapeutic Journaling, shows you journaling can provide the tools you need to achieve the happiness we all deserve.