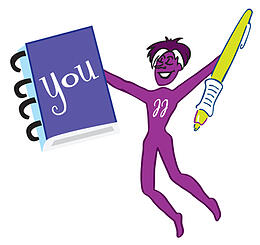 Social psychologist and University of Texas at Austin professor Dr. James Pennebaker has a simple assignment that he has been giving people for more than 20 years; he tells them to write down their deepest, most personal feelings about an upsetting experience in their lives:
Over the next four days, write about your deepest emotions and thoughts about the emotional upheaval that has been influencing your life the most. In your writing, really let go and explore the event and how it has affected you. You might tie this experience to your childhood, your relationship with your parents, people you have loved or love now, or even your career. Write continuously for 20 minutes.
As a result of revisiting painful or emotionally loaded topics they may have tried to avoid for years — relationships with parents, family secrets, tough break-ups — and put them into words through journaling, participants have experienced a variety of positive changes in their lives. Some have strengthened their health and immune systems, while others have seen their grades improve.
The Emotional Benefits of Writing Therapy
Research shows that people who keep big secrets are more likely to have health problems, and Pennebaker wondered if people shared their secrets, their health would improve. Further studies found that sharing secrets, whether telling another person or simply journaling about them, has many positive health effects. This approach is effective not only for powerful or dramatic secrets, but also for everyday stresses, emotional hardships or trying situations.
"Emotional upheavals touch every part of our lives," Pennebaker said. "You don't just lose a job, you don't just get divorced. These things affect all aspects of who we are—our financial situation, our relationships with others, our views of ourselves, our issues of life and death. Writing helps us focus and organize the experience."
Pennebaker is a pioneer in the field of writing therapy, and his work has exposed a large audience of people to the health benefits of journaling. To read more about his research and methods, check out his book the next time you go to a library or bookstore: Opening Up: The Healing Power of Expressing Emotions. This book investigates how internalizing and suppressing painful feelings can harm your physical and emotional health. Pennebaker uses clinical research and case studies to demonstrate how self-disclosure and writing therapy can bring relief and healing.
What is the biggest physical or emotional health benefit you get from journaling? Read the life-changing stories of many, many Journalers on Mari's Journaling Power Blog.
Is grief an issue you want to work therough with journaling? Explore our 7 Steps to Heal Your Grief self-paced journaling power course.