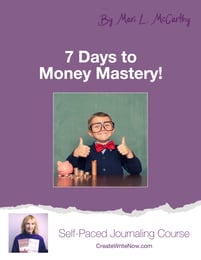 Here is a piece of positive news in a tough economic climate: you can make a fresh financial start in just a week, using only your journal and a pen.
The best things in life may be free, but money is a source of stress and worry for many of us in our day-to-day lives. You may feel anxious about paying the bills, saving for the future or providing for your family, but you don't know how to deal with these concerns. If you're like many people, you probably just try to ignore them until they have can no longer be avoided and have to be addressed.
No matter what the state of your financial affairs, you have the power to change your old habits and take action to build a smart, stable financial future for yourself. Journaling helps you gain control over the power of money in your life. The Challenge guides participants in using daily journal writing to come to terms with money worries, create healthy and productive approaches to money-making, discover and heal the origins of fears about money, and create workable strategies for achieving personal financial goals.
Benefits of the 7 Days Money Mastery Journaling Challenge
Your personal journal is the perfect tool to manage your concerns about money, and the 7 Days To Money Mastery Journaling Challenge workbook guides you through a different set of reflections and writing exercises for each day of the week. Joining the challenge will allow you to:
• Explore the roots of your fears and worries about money and work toward overcoming them
• Create healthy, sustainable habits for money making and money management
• Commit to personal change and achieve your personal finance goals.
#JustWRITEON!