by Lillian Gaffney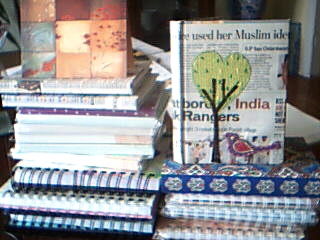 Sunday Aug. 26, 1990 I walked to the corner... crossed the street and walked to the phone booth. I opened the door and inserted my dime. I called the police. That phone call changed my life forever. As Dr. Phil says, it was a life defining moment. Things would never be the same, again. They were my first steps to freedom. I was fearful beyond belief and sick of being fearful. I was ready for change... so I thought. Little did I know what was about to transpire. Thank God, I didn't know for I probably would have never done it. In a nutshell, I had my husband removed from my home who I had an on and off destructive relationship with for twenty years. I put down a drug, alcohol, and cigarette addiction of twenty-four years. And picked up my first journal and pen.

First journal entry: H -honesty O-open mindedness W-willing Mon. Aug. 27th 1990 Today I did the usual cleaning and stuff. I couldn't wait to go to therapy today after visiting my son. I hurt so much, I never knew recovery could be like this. I thought I recovered, I thought everyone else was sick in my family. My brain goes so fast, faster than on speed. My insides feel like their being ripped out sometimes, other times like they're gonna burst. I never intentionally meant to hurt my family; it just happened. I always wanted to be a great mom, I still want to be. I always thought I could do anything and everything. I got off track.
That first year was pure hell. My husband moved to Florida where he stayed with little contact. My daughter was acting out to the point of medical help was necessary, eventually institutionalized and residential. This was the hardest thing I ever did and the most painful. This was the beginning of years of coming home and going back. Each time with hope it would be for good. My son had an addiction of his own which played havoc in our lives. I was holding on each day by a thread, a program, some therapy. And that paper and pen was my best friend! My own abandonment issues were tormenting me; they were like monsters eating my guts out, chewing at my bones, and twisting my muscles. I survived and worked hard to maintain what little sanity I had that year. A friend gave me a beautiful journal and told me to fill it with affirmations. Each day I tried to find one positive thing to write about which on most days wasn't easy. Nonetheless, from 7-22-91 to 8-8-92, I did.
March 13, 2011 What I've gained. From this last read of my twenty-one year entries of journal writing to present I have transitioned myself through the journey of healing, empowerment, and growth. I have written 50 journals that now reinforce what is possible. Recording all of what has transpired in that transition has given me the gift of insight. I realize today that I am a courageous, creative, strong, vibrant, talented, intelligent, loving woman. This does not come by way of ego, this is the reality of my spirit and all that she has to offer the world. People that act as if there is a magic bullet to recovery, I am sorry to say this is simply not true. It takes work and the willingness to take an honest look within. One has to become responsible for their life. The work is continual, that is if you want to create the life you truly want. I've reeducated, rediscovered, and recovered myself.
This passage has helped me to know who I am and who I want to be. Journaling not only gives you strength in moving through your journey, it also gives you a strength in identifying who you have become. When we see what we are capable of through the written work, this makes for grander possibilities in life.
Today, I help others heal by writing their stories, giving and supporting their voice, creating a safe place to express themselves, to be seen and heardfully, to inspire, encourage, and motivate others to manifest what they want in life. What an absolute honor and pleasure I have by simply being a witness to their process; and at the same time, I get to share my creative passion. How truly blessed am I!
Lillian Gaffney
Journal Writer/Creative Artist/Facilitates Wellness & Creativity
lillian@lilliangaffney.com
Journal To Change Your Life
Do you find yourself dwelling on missed opportunities? Or perhaps you're having trouble making sense of it all? Please download our free ebook, CreateWriteNow's Expert Guide to Therapeutic Journaling, shows you journaling can provide the tools you need to achieve the happiness we all deserve.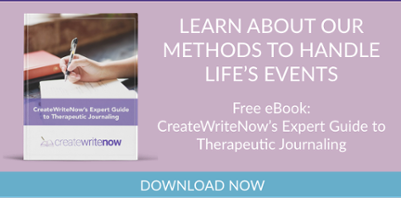 Spirituality is an important part of your overall well-being, but too often is pushed to the back burner. Our 15 Day Spiritual Journey self-paced journaling course shows you how to get back in touch with your spiritual life by picking up a pen with journaling.