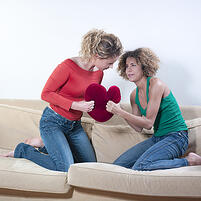 By Dawn Herring
A fiery unexpected argument with your spouse. A biting comment. A betrayal. A friendship gone sour. A conversation misunderstood. Divorce. Estrangement. A broken dish. A broken heart.

Conflicts come from all places and with all relationships, whether internal or external, sooner or later as we navigate our way through the dips, turns, and unexpected detours of everyday life.

When we are in the midst of thorny situations, it is difficult not to react or get upset, especially when we don't know what triggered the issue in the first place, which makes the resolution of these conflicts difficult, if not impossible.

Unless we identify our nemesis, we won't know what we are facing.

This is where journaling can save the day: writing our conflicts in full detail from the source of the friction, from where the heart is injured.

Every conflict has a core issue that is covered in layers of emotions, thoughts, and feelings. You can peel back each layer with the stroke of your pen on the page by recording these difficulties using clear concrete images and by asking several questions.

Why did I react the way I did? Example: Did you cry, scream or rant? Did you remain silent but seething?

What raw emotions came immediately to the surface? Example: Did you feel resentment, anger, jealousy, rage? Did you experience humiliation or embarrassment?

How did I view the person or situation as it came to me? Example: Did you see them as a violation, an oppression, or burden?

Once you begin to record in full disclosure these feelings, emotions, and images in your journal, you will begin to discover from where the conflict is emerging.

But if you stop there, you haven't resolved the conflict; you've only identified your feelings and perceptions of the occurrence. (Of course, venting in your journal helps as well, bringing some relief to the pressure you feel.)

However, you need to take it a step further and pull back another layer with your pen. You need to ask yourself, "Why?" Why did you feel those emotions? Why did you see the person or situation with that image?

When you answer these questions honestly, you may trigger previous conflicts, both resolved and unresolved through the association of those feeling and images that this recent conflict has brought to the surface. Now core issues are revealed.

An Example:
The person you conflicted with (ex: a friend or spouse/family member) required your time and energy to resolve a problem that you may not have had an answer to, and because you felt inadequate to the task, the situation felt oppressive to you, which caused feelings of insecurity to emerge. Thus, you feared their rejection or ridicule; you felt burdened and wanted to run to protect yourself. And you realize it's not the first time you've felt this way.

The core issues of insecurity, inadequacy, and fear that you have excavated through the power of your journaling pen are quite powerful. The wrong assumption of not being good enough or smart enough has been revealed and can now be dismantled, leaving you to rebuild with a positive image of yourself, a correct image of who you are and what you are capable of.

But it doesn't stop there.

When you continue to identify these core issues in your journal each time conflict arises, you can begin to recognize patterns and themes that emerge. When seeing the truth about yourself in each situation, you can begin to take steps toward positive change based on those truths. When you see and think of yourself as better, you are better.

Now you can have a proper visual of yourself as valuable, smart, capable, and adequate to each task; and you will also know where to draw proper personal boundaries. As you uncover your core values, you can begin to implement them into your everyday experience and interactions with others.

As you see the effects of change at the core level, future conflicts will no longer carry the same weight they once did.

You may find yourself feeling more confident and resilient in the process. And that kind of change is empowering.

Use your journal to discover the heart of your conflicts and begin to make positive change which will result in a more healthful, peaceful and satisfying life.

Dawn Herring is a freelance writer and office manager, and has kept a personal and spiritual journal for over 20 years. She writes essays, devotionals, memoir, and fiction. She is also the creator of #JournalChat on Twitter for all things journaling; you can follow her @JournalChat and @DawnHerring. Her website is www.dawnherring.net; you can find her Refresh with Dawn Herring blog at http://journalwriter.blogspot.com/