This coming Monday is Martin Luther King Day, a national holiday that marks the birthday of Dr. Martin Luther King, Jr. and honors his enormous contributions to the civil rights movement.
Most of us are familiar with Dr. King's most famous speech, "I Have a Dream," but if it's been a few years since you've heard or read it, it is worth revisiting (the full text and audio are available at American Rhetoric) and using as inspiration in your journal writing. He is speaking about his dream of erasing racial inequality and discrimination, but his words are still potent and relevant to many different topics today: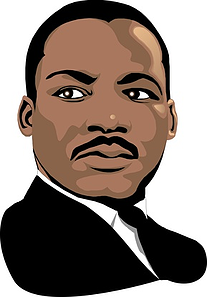 "And so even though we face the difficulties of today and tomorrow, I still have a dream. It is a dream deeply rooted in the American dream.
I have a dream that one day this nation will rise up and live out the true meaning of its creed: "We hold these truths to be self-evident, that all men are created equal."
Journal Writing Prompt: "I Have a Dream"
1. Read or listen to the "I Have a Dream" speech and spend a few moments reflecting on it. What is the greatest form of injustice or inequality that you see in the world today? Where do you see the need for social change? Write a description of the problem from your perspective. Who is most deeply involved in this issue? Who do you hold most responsible? What do you think Dr. King would have to say about it if he were still alive?
2. How does this inequality affect you or the lives of your friends and family? How does it make you feel? Write about your personal experiences, giving specific examples if possible.
3. Do you think there will be progress on this issue during your lifetime? Why or why not? What needs to happen to cause social change? What is your personal role in this kind of change?
4. Finish your journal writing entry with a short "I have a dream…" statement of your own. What is your ideal vision for the future?
Share your dreams in the comments section, and search for Martin Luther King Day of Service volunteer opportunities in your area.