The Power of Journaling for Self Healing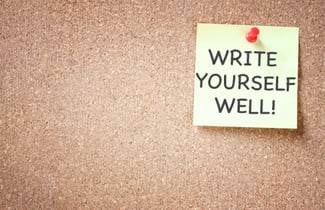 It may surprise you to learn that journaling can be a powerful tool for self healing.
Using a journal to explore spriritual, emotional -- and physical -- ailments can help you not only identify the root cause of many issues, but also give you the tools and the strength you need to overcome these challenges.
Keeping a regular journaling practice is a way to take charge of your own health, raise your level of awareness to your own power to improve - and heal - your condition. Journaling provides a framework for you to determine specific steps to take to methodically address what ails you -- and create a path to a healthier you!
Whether you are facing a serious health condition or if you just want to live a healthier, more active life, journaling can help you get focused on achieving your goals.
Become the primary custodian of your own care
Choose the path your health - or your illness - will take
Stop letting health issues keep you from achieving your goals
Learn to manage your health - so you can live the life you want!
Journaling can help you gain new perspective, change your negative thought patterns, and stop letting your inner critic hold you back.
Here you'll find links to our best self healing and health related articles, tools, products and information to help you get started on your path to journaling for the health of it!
How to Get Started!
If you are just getting started using your journal for self healing, you'll find all the resources you need right here on the CreateWriteNow website. Subscribe to the CreateWriteNow blog for free tips and inspiration and sign up for our complimentary newsletter to receive ongoing information, links to helpful articles - and special insider offers available to our subscribers only!
If you're new to journaling for self healing and need some guidance, you'll find our eBook, Start Journaling a great way to get started.
If you have questions about getting started journaling for self healing or would like someone to help you dig in, consider signing up for a 'Journaling Jumpstart' session - and work directly with CreateWriteNow founder and journaling expert, Mari L. McCarthy.
If you already have some journal writing experience under your belt, and are looking for inspiration to re-ignite your passion for journaling, you'll find our eBook

'27 Days of Journaling to Health and Happiness

' an eye-opening, fun and inspiring path to getting your pen back on the page! Download a free chapter here to find out if this is the right tool for you and find the full book available here.
Or you may enjoy pariticipating in one of our upcoming journaling challenges!
Mari L. McCarthy offers coaching and related services to journal writers of all levels - learn more about Mari's Private Workshops here.
We Are The Cure
"The cause is within us. The cure is within us. When we know this our concept of disease is no longer that of something fixed upon the body cells which must be purged, cut or burned away. It is not something coming in from the outside which we cannot prevent. Rather it is a change from within, and we must find the reason why the body changes its perfect pattern to vibrate to discord rather than to harmony."
-Rebecca Beard, 1951