As I lay in bed waking up that morning in April of 2017, knowing that something was horribly wrong, the thought kept coming to my mind: They meant it for evil, but I meant it for good. It was followed by Jeramiah 29:11: "For I know the plans I have for you,' declares the Lord, 'plans to prosper you and not to harm you, plans to give you hope and a future." Somehow instinctively I knew this would be like no other journey I had ever traveled.
This would become the beginning of a hellacious journey of falling through the cracks in the medical community.
Looking back, I realize that journaling had always been a large part of my life, and now as I struggled to find some sanity, I journaled just to document what was happening as I was passed from doctor to doctor, only to be told there was nothing wrong with me. I was finally diagnosed and told over the phone I had cancer and to go to the emergency room immediately because it was so advanced that the doctor didn't want me to wait to see a hematologist. I knew there had to be a better way.
As I struggled to regain my health I continued to write, moving away from the horrible things that happened to the wonderful things that were beginning to open up before me, as I found new doctors and integrative treatments for cancer that would save my life.
As I continued to write about my life journey, I would find out that the disciplines I had learned earlier in life would now be put to the test as I struggled to find answers.
As we drove to Chicago for treatments, while I was still so horribly ill and could not stand any noise and commotion, I would wrap up in a blanket, put on my headphones and listen to music that would drown out the sights and the sounds of the traffic. It was during those times I would sit with my lap-top and journal what was happening to me and later to write yet another chapter in my book.
My journaling would become the starting point for the blogs on my website at https://maryrechkemmermeyer.com. And from there my journaling became the basis for my book. For a long time, I thought I would write a book about overcoming obstacles and setting goals. Little did I know that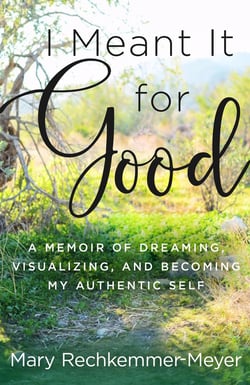 through journaling, this book would take on a life of its own and I would become more vulnerable and real in sharing my story. Journaling has helped me to be quiet and listen to the still small voice and become my authentic self.
I had to believe I was healed, and journaling became part of that process of documenting everything that was happening to me as I visualized healing.
I decided that I'd been through many journeys in life and that God had always walked alongside me or led me when I needed it the most. Cancer would be yet another journey.
And now that my book is published, I am once again amazed at this journey called life. So much of what I have experienced has been orchestrated by God: the synchronicities that seemed to flow, as well as the major bumps in the road that left me breathless. What a beautiful weaving of tapestry our lives are, if we're willing to change the things we can and accept what we can't.
Journaling became a huge piece of my journey as I visualized healing. I am happy to say that journaling has been the catalyst to take such a horrible experience and turn it into something good, first with my website where I share my blogs and now with my new book, I Meant it For Good: A Memoir of Dreaming, Visualizing and Becoming My Authentic Self.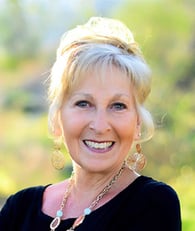 Author bio: Life is full of twists and turns, and most people do their best to simply survive. But not Mary Rechkemmer-Meyer. Why survive when you can thrive? Suddenly a single parent, Mary lifted herself up and created the life she wanted for herself—a life of financial, personal, and spiritual success—despite the many obstacles she overcame along her journey that included a devastating cancer diagnosis.
I Meant It for Good: A Memoir of Dreaming, Visualizing, and Becoming My Authentic Self shows you how to plan, dream, and visualize yourself into the life you want. Life doesn't happen to you, it happens through you, and this book shows you how. You can visit Mary at https://maryrechkemmermeyer.com