When I was asked to share my journaling efforts for Create Write Now, I was brought up short as I do not journal on a regular basis. But I do know the health benefits for those who are hoping to sort through a childhood memory, or to cleanse the spirit from unwanted thoughts and feelings. As a family therapist, I worked for years with those who had suffered addiction or sexual abuse as children. So, I am fully aware of the healing that can arise as one's words flow from the heart and mind into the pencil and onto the page.
That very release from painful memories—those that kept an individual captive—can give way to hope and joy, sometimes for the first time. It is a remarkable and powerful gift of healing for the soul.
But, once I retired, I turned my idea of journaling into a tool to help me remember as I traveled. Travel notes were vital to jog my memory and, like a photograph, transport me back to those precious moments I longed to accurately portray. You see, I wanted to know how families in other countries interact. What is the glue that keeps them together? How are they different from families in the United States? My theory was that if I ask people to tell me about what brings their families to the table, we will begin to talk about a subject everyone loves: food. So, I made arrangements to travel with French or Italian friends who had a good command of the language and have them introduce me to families in both countries. As I began my interviews, my journaling became essential notetaking and tape-recording measures. No, I confess. I do not speak either French or Italian fluently, so, my reliance for note taking purposes was firmly on the words my translator friends shared with me as we went along.
I was invited to stay in family homes, asked to family tables, taught traditional recipes, and included in invitations to favorite restaurants. Always I began by asking them what brought them to the family table. I wanted to know what their favorite foods were, but also their traditions, history, and family stories. I wanted to know what was important to them, because it appeared that 'family' meant something different from what we experience here.
Everyone has a favorite recipe, and the moment I asked my questions, I can tell you there was a mad dash to the kitchen cupboards to pull out the recipe boxes and bring food-splattered, well-loved and used recipe cards to my attention. Of course, they needed to show me how to prepare these dishes, and I was most eager to learn. And to taste! Thus, began my new career as a culinary travel writer and cookbook author.
When I think back over some of my interviews, I throw my head back and laugh at the audacity of some of my questions. I would ask, what I thought was a simple question, and my friend and translator (usually dear Josiane) would turn to the interviewee and ask my question. The conversation and laughter that would ensue would continue for many minutes, and then sometimes I would get a response, "They agree!" she would say, as a full translation of the answer. Of course, I had no idea what had been said, and didn't learn for many months until the tape recordings were transcribed for me. It was there that a wealth of information bubbled forth, and me, totally clueless, had not asked the pertinent follow up questions. Of course, I never blamed my translators. (You'll have to read my four books, because most times it was dear Josiane. No one could possibly not love her! She enjoyed everyone and the feeling was mutual, whether family, friend, or stranger. They all would get caught up in the camaraderie of the moment and were enjoying themselves so much, that they couldn't possibly have conveyed the responses in real time.)
But that is where the importance of 'journaling' came into effect. There are times when I reflect over some of my adventures, when my notes were scribbled down so fast, I wondered how I could possibly have transcribed my own notes. There is a moment in my latest book, Searching for Family and Traditions at the French Table, Book Two, that comes to mind. Josiane and I were dining at a lovely restaurant in the beautiful city of Chinon in the Loire Valley, after we had completed an interview at a local truffle farm. We had been advised, if we wanted to sample truffles, to make our way to one particular restaurant, The 30s, built into the base of the ancient moat below the Château de Chinon:
* * * *
"Beginning with escargots in garlic butter, and salade au chèvre chaud, Josiane and I opted for at least one dish apiece with pungent flecks of truffles wafting up from our plates. Josiane chose roasted duck with truffle sauce; I chose fillet of beef with truffle-infused gnocchi. Both were accompanied by fine red Chinon wines. Ah, sweet decadence!
By the time the cheese cart rolled around, we were feeling no pain and we sampled the Crottin de Chavignol, one of the most famous local Loire Valley cheeses. But the pièce de résistance was dessert: a true Loire Valley classic: tarte tatin, with caramelized apples in a delicate puff pastry. (Yes, we had experienced a plethora of apple desserts on this trip, but this one took the cake. Or the tarte.) As we dug in, the pastry chef strolled by and introduced herself. She was Sylvie Preteseille, and she had overheard Josiane regaling the waiter with compliments to the chefs. After a brief conversation, we were served a specialty wine to accompany the dessert, followed by an invitation to join the chefs in the kitchen after dinner.
It was after 11 pm when Josiane and I were led up the long staircase to the kitchen. Patrice Morcel and Sylvie Preteseille, the husband and wife team who ran the restaurant, escorted us into a side office, where we all sat down at a table, and where Josiane immediately switched into translator mode and snapped off a question to me.
"Questions, Carole? Do you have any questions for them?"
I could barely focus my eyes due to the amount of wine I had consumed and my need for sleep, and I had failed to bring my tape recorder or notepad. (What kind of writer was I? I didn't realize I was on 24-hour duty.) Josiane slapped a stack of thin white paper cocktail napkins before me, handed me a pen, and the interview began.
"How did you begin to cook and what were your influences?" I asked.
Patrice sat back in his seat and slipped his toque off, swiped at his sweaty forehead, and blinked his dark blue eyes. He could tell this would not be a short interview, so he signaled one of his lingering wait staff to bring a bottle of good Chinon wine, a Crémant de Loire. He poured four glasses and settled back into his seat, facing the two of us, with his wife at his side.
"I was born in Casablanca, Morocco," he said" "Many of my influences came from my childhood. But once I began to cook for a living, I worked all over, including the French Antilles. After the Antilles, I decided to really invest time into becoming a chef—not just a short order cook. So, for seven years I apprenticed, working two years for a chef in a very small restaurant to learn more traditional ways. That is what our focus is at this restaurant—the traditional ways of regional cooking."
My ears perked up. Right up my alley!
"By accident, we both came to work in this tiny bistro and fell in love with this job . . . and each other," Sylvie said with a smile. "I think we both had a passion for cooking since we were quite young. We worked together for four years here, and then two years ago our boss sold us this bistro after having built up the clientele for eighteen years. We have been able to hold most of his clientele, and add many of our own, who come from all over. Like you . . ." She nodded toward me.
I was so busy scribbling back and forth across the napkins, up one side and down the other, trying to keep up with Josiane's translations. I almost missed the smile and nod in my direction." Chapter 13, Chinon and Beyond, page 189
* * * *
What unfolded was one more touching story of the love of preparing traditional French recipes, inherited from their grandmothers, to reflect the importance of family and traditions that linked them together. All painstakingly jotted down – or journaled - on a cocktail napkin.
Author bio: A retired family therapist, Carole Bumpus began writing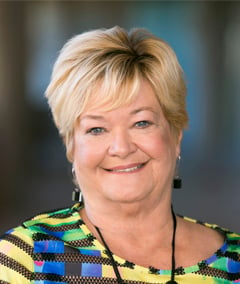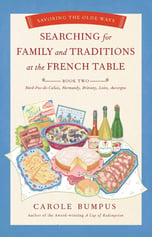 about food and travel when she stumbled upon the amazing stories of women and war in France. She has traveled extensively throughout France and Italy, where she has interviewed more than seventy-five families to date for her food and travel blogs. She published an historical novel, **_A Cup of_** **_Redemption_**, in 2014, and her unique companion cookbook, **_Recipes for Redemption: A_** **_Companion Cookbook to A Cup of Redemption_**, in August 2015. **_Book One_** of her **_Savoring the_** **_Olde Ways Series_**, called **_Searching for Family and Traditions at the French Table_**, was published August 2019. The third book, **_A September to Remember: Searching for Culinary Pleasures at the Italian Table_**, will be released in April 2021. She is an active member of The California Writers Club and The Women's National Book Association. Bumpuslives in the San Francisco Bay Area, where she teaches classes on writing, does public speaking, and continues to write about women, food, and war.
https://www.amazon.com/Carole-Bumpus/e/B00NJ58JOW
https://www.amazon.com/dp/1631528963/