I ran a small press for seven years and published 13 books during that time. I did the acquisition, editing, production, distribution and marketing. My authors did a ton of work, too. Together, we published three New York Times Bestsellers, got great reviews from professionals and online readers, won three prestigious Hoffer Awards and numerous other awards, and optioned one book for a film.
But in the end, the big question is, "Did we sell any books?" And the answer is a resounding, "Yes!" We averaged 6,000 copies sold of each title—including two titles that sold more than 20,000 copies each—and made money for each of the authors.
I now publish LitNuts, a newsletter promoting indie books, and I was recently on a video conference with members of the Independent Book Publishers Association. We were talking about "discovery" – aka, how do small publishers let booklovers know about all their great new books?
I shared a roadmap designed to sell 5,000 copies of a new book in six months. Newsletters like LitNuts were a key part of the roadmap. It's a plan that any author or small publisher can follow. The IBPA members agreed that it was a good plan, and now I'm sharing it with others—including you!
A few caveats: More than 80% of my publishing company's sales came from e-books, and much of what I'm about to describe is a strategy that leads with e-books. But I believe these same tactics can work regardless of format. Also, whether you are a small publisher or a self-published author, I'm assuming you have other infrastructure—like a website, blog, newsletter and/or social media presence—in place already.
Here are the steps to selling 5,000 books in six months:
Make sure you have a great book. I know it goes without saying, but don't expect to sell 5,000 copies of a mediocre book. The steps that follow will get your book into the hands of thousands of readers. If they like your book, you'll get lots of positive reader reviews, good word-of-mouth, and thousands more readers. If they don't like you're book, you'll get negative reader reviews and bad word-of-mouth. Enough said.
Metadata. Make sure you have a compelling description of your book. Refresh it from time to time on the places that let you refresh it easily (Amazon, BN.com, Smashwords, etc.).
Pricing. I strongly encourage you to price the e-book edition of your book at $2.99 everywhere, at least initially. Everything that I'm going to advise when it comes to advertising/marketing is based on my experience with advertising/marketing that at least pays for itself based on a regular price of $2.99 and a sale price of $.99. If you price it higher, you're probably not going to get as many downloads of your e-book.
Reviews. You need to get reader reviews on Amazon, BN.com, Goodreads and elsewhere (especially on Amazon and Goodreads). Some of the following steps are specifically to get reviews. Ideally, they will also generate sales, but the initial goal is to get reviews so you can do some serious advertising later.
Goodreads giveaway. Consider doing a giveaway on Goodreads. I know…the idea of "giving away" your book may not sit well with you—especially when I tell you that it currently costs $119 to give your book away via Goodreads. But it's worth it. You can give away up to 100 free copies of the Kindle edition of your book. Goodreads will handle fulfillment for you. In return, you get your book into the hands of dozens of engaged readers (and on the "Want-to-Read" lists of everybody who expresses an interest in your book), which will very likely lead to reader reviews on Goodreads and/or Amazon or elsewhere.
Blog tour. A blog tour is a great way to promote not just your book, but also yourself as an author. I've used several blog tour services, and I believe a WOW! blog tour is one of the best values and most effective marketing tools you are going to find as an author. You can also reach out directly to book bloggers and offer to do a guest blog post as a one-off.
Advertise via eNewsletters. I am publisher of LitNuts, which is an eNewsletter that promotes books from independent publishers and authors. There are literally dozens of other newsletters that do the same thing. (Well, they do a similar thing. LitNuts is the only newsletter focused on indie books, and where most other newsletters focus on bargain books, LitNuts features books across a range of price points.)
There's a good list of book newsletter/promotion services on Reedsy—but be careful. Many don't generate enough sales to cover the cost of the promotion service. Here are a few that I recommend trying: Bargain Booksy, Free Kindle Books & Tips, Hot Zippy, Book Basset, eReader News Today, The Frugal Reader, Choosy Bookworm and, of course, LitNuts. Kindle Nation Daily can also generate sales, but they also have some of the most convoluted (and expensive!) promotion options. If you use KND, go for one of the lower-priced promotions.
Ideally, the book promotions with these newsletters will generate enough sales to at least pay for themselves. But even if you just break even, that's good! The primary goal through all of this is to get your book into the hands of readers, and to get some reader reviews on Amazon, Goodreads and elsewhere.
BookBub. It may take some time…maybe even three to four months…but when you have 25 or more reader reviews on Amazon or Goodreads (ideally more!), it's time for the next big step: applying to have your book promoted by BookBub.
Yes, you have to "apply" to be in BookBub. And they are very selective. (Here are BookBub's promotion requirements.) Which is why you need to get your book out there and get reader reviews first—because BookBub will look at everything about your book…the cover, any professional reviews, awards/recognition, and reader reviews on Amazon and Goodreads.
If you are not familiar with BookBub, here's what you need to know: BookBub is by far the leader in the book newsletter/promotion service industry. And BookBub is expensive. But for good reason. They have millions of subscribers—and those subscribers buy books. In fact, if you do it right, there's a chance that you could get your book on a New York Times Bestseller list as a result of doing a BookBub promotion.
Let's look at the numbers: Here are the relevant BookBub statistics for an author who wants to promote a memoir:
2.75 million subscribers to Biographies and Memoirs
$944 to promote an e-book costing 99 cents
2,460 average books sold
Here's what I recommend when it comes to BookBub: Try to schedule your book promotion to start on a Sunday or a Monday. Demand for BookBub promotions is so great, you will have to take whatever day they give you, but it doesn't hurt to ask. Put the e-book edition of your book on sale for 99 cents for 1 to 1-1/2 weeks, starting the day of your BookBub promotion. (FYI: The NYT measures sales from Sunday to Saturday to determine what books make their bestseller lists for that week, which is why I recommend trying to do your BookBub promotion and start your sale on a Sunday or Monday.)
A good BookBub promotion will net you thousands of downloads the week of the promotion, plus a "tail" of sales at the regular price for a few weeks after that.
After your BookBub promotion, you might be pretty happy with how your sales are going. But I'm going to suggest you do one more thing after the BookBub promotion. (DO NOT use the following tactic before the BookBub promotion. Why? Because BookBub requires that your book be at the lowest price in its history when you do a promotion with them. The Goodreads giveaway doesn't count. But a KDP Select giveaway with Amazon DOES count, and it would mean you would not be able to price your book higher than $0.00 with BookBub!)
KDP Select Giveaway. After your BookBub promotion (several weeks or months after…when the "tail" of your BookBub promotion has stopped wagging!), consider doing a KDP Select giveaway. To enroll in the program, you need to halt sale of the e-book edition of your book everywhere other than Amazon for 90 days, which is a bit of a pain (and maybe impossible if your book was published and distributed by a traditional publisher and distributor). But if you worked with a small publisher or self-published, KDP Select may be an option for you.
My publishing company did not have traditional distribution, so I controlled distribution and pricing myself. So to enroll in KDP Select, I temporarily "turned off" e-book sales via BN.com and Smashwords (which in turn, turned off sales via Apple, Kobo, and others), and then turned sales back "on" when I took a book out of the KDP Select program.
While you are in the KDP Select program, your e-book will be available to people who have paid to be in Amazon Prime (they can borrow your book at no cost, and Amazon pays your about the same as they do for a sale), and you can give away your e-book for up to 5 days during your 90-day enrollment. I would give it away for 3 days early in the 90-day period, and then use the other 2 days late in the 90-day period. The result will be lots of free downloads, and ideally, a sales bump when your e-book goes from free back to regular price.
Also, I advise promoting the heck out of your KDP Select giveaway. There are a bunch of websites and e-newsletters where you can promote a giveaway at no cost or low cost. A good giveaway will result in thousands (maybe tens of thousands) of downloads—and ideally, lots more reader reviews and word-of-mouth marketing that you wouldn't get otherwise.
After your enrollment in the KDP Select Program expires (be sure to set it up so it doesn't renew automatically), you can turn distribution back "on" at other retail outlets.
5,000 Books in Six Months. After doing all of the above steps over 6-9 months, your e-book should be in the hands of tens of thousands of readers, many of whom got your book for free, but also many of whom paid to buy your book. And you should have lots and lots of reader reviews, which are worth their weight in gold, and ongoing sales as the result of positive word-of-mouth, which is the Holy Grail of publishing. If so, kudos to you! It's a lot of work, but it's all doable. Good luck!
***LitNuts is giving away a one-year subscription to Kindle Unlimited, and the giveaway ends on December 6th at 11:59 PM EST***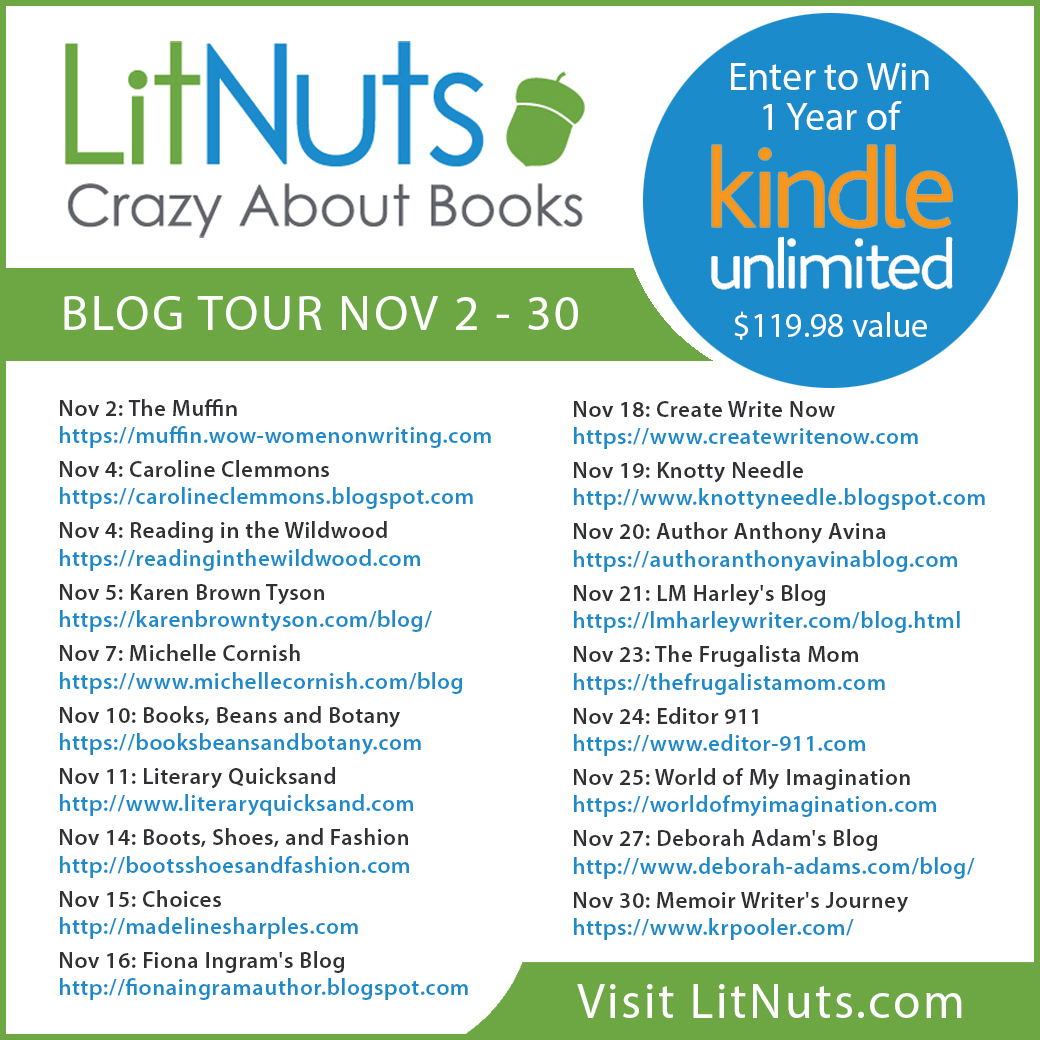 **About LitNut and owners Kathleen Meyer and her father, Mike O'Mary:**

LitNuts is a woman-owned, family-run business founded by Kathleen Meyer and her father, Mike O'Mary, who share a love of literature and reading. Kathleen is an avid reader with 10 years of marketing experience, including with Dream of Things, a small press founded by Mike in 2009. During its 10 year history, Dream of Things published three New York Times Bestsellers, three winners of the Hoffer Award, and one book that has been optioned for a film. Kathleen and Mike drew upon their experience of publishing and marketing books on a shoestring budget to create LitNuts, in the hope of helping other indie presses achieve success.
**Authors and readers, visit [LitNuts.com] to sign up for their newsletter, where you can hear about incredible books from indie publishers that you wouldn't hear about anywhere else.**

**You can also follow them on**
Facebook: https://www.facebook.com/LitNuts/
Twitter: https://twitter.com/Lit_Nuts