My Journaling Book
Several years ago, I was spending too many hours in front of a computer, writing manuals for clients and managing my technical writing business. Working from a home-based office, I missed being with people. I remembered my teaching days and the exchanges that take place in group settings. I wanted to get out more to talk and listen and learn, and created a plan to transition from excessive computer time plying my craft to sharing my work with others. Thus, the motivation for Career Success in 12 Easy Steps: A Journal was born. You might say that I wrote this book for me. It became my guide for progressing from where I was to where I wanted to be.
I soon learned that a book needs more than an audience of one. Who could benefit from this book? It turns out that the answer is many people - those in transition from school to work, from one work experience to another, or from work to retirement or other meaningful pursuits. Parents, teachers, and other growth coaches who support those journeying toward a productive, fruitful life could also benefit.
A book needs a purpose. In my case, I designed the many scenarios and guided journaling activities to offer readers time and space to think, explore, doodle, draw, and dream, and to move closer to achieving their world-of-work or life goals.
Twelve Steps
Career Success in 12 Easy Steps: A Journal presents a 12-step plan to move from present state to future state. Each step includes a brief scenario that introduces fictional friends whose success is intended to inspire and motivate. The activities within each step encourage self-exploration and discovery of the journalers' interests, capabilities, values, and goals. Each step culminates in a Mad Lib (fill-in-the-blank) story for writing a unique, customized success story whether journaling independently or with others in a group setting. Here are the steps:
Step 1 Wake Up to Your Dreams
Step 2 Build on Your Successes
Step 3 Own Your Competencies
Step 4 Know What Emanates from You
Step 5 Discover What Is Relevant for You and Do It
Step 6 Draw from the Breadth and Depth of Your Experiences
Step 7 Engage, Involve, Manage, Lead, and Guide
Step 8 Demystify and Simplify the Complex
Step 9 Discard Anxiety and Embrace Confidence
Step 10 Keep Your Reservoir Full
Step 11 Bestow Unto Others
Step 12 And Also Receive
My team created an infographic of the 12 steps to use as a reminder of the process.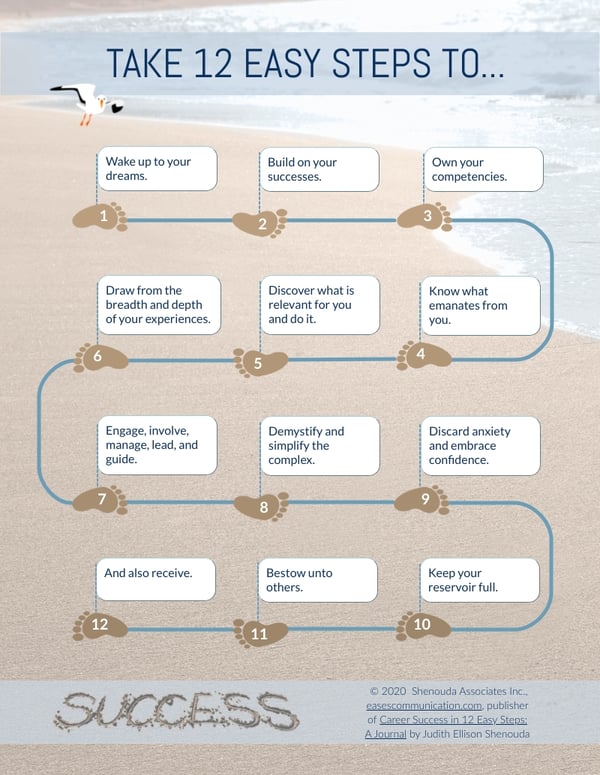 Readers' Experiences
I learned from those who wrote reviews after reading my book that guided journaling does a lot of good for those doing the journaling. Here's what the reviewers wrote:
"You'll be amazed at what you reveal to yourself."
"The magic of this work-book is that it can be used by people at any stage in their career to help focus on what they want to be doing—a key ingredient to being successful."
"Each section asks you to own your own dreams, successes, skills, etc. I feel like my story of career success has been written, and it is now up to me to live it and make it a reality!"
"The question What are you wearing? led me to my ah-ha moment. I pictured myself in casual sporty clothes, holding a patient chart. Combining this with other pieces of the puzzle I had put together with the help of this book, I have found my new passion."
"My career is in a transition phase and I found the book to be a helpful tool as I update my resume and prepare for interviews."
"What is most helpful to me is the precise and supportive voice throughout the book, which guides you to actualize tasks you will complete."
"Whether you are in a rut and would like to get out, you think you are already at the best place in your career, or you are like me and are a budding worker, I feel this journal holds a positive influence and reflection for you."
"It's an unassuming little book that will not intimidate young people preparing to go forward with more confidence. It's a good way for experienced adults to mentor them without preaching!"
"There has been significant evidence gathered that suggests journaling is a powerful way of healing, coping and moving forward."
"I particularly like the journal format since research clearly has found that putting pen to paper is the best way to activate your brain and heart."
In short, journaling reveals, focuses, inspires, directs, activates, and heals.
My Experience
In the process of writing my guided journaling book, working my way through the activities, and promoting the book, I did, in fact, migrate from a lot of computer time at home to many more interactions at book fairs and other events with like-minded authors, publishers, and book lovers. Since authoring and publishing Career Success in 12 Easy Steps: A Journal (now in its second edition), I have authored two more books. All three books (and a fourth book that I have started) are part of what I call my Living Well series. Life is good. May it be so for all.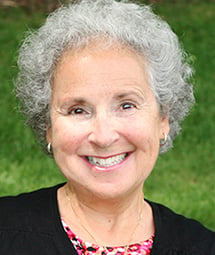 Author bio: Judith Ellison Shenouda is owner of Shenouda Associates Inc., a business that researches, writes, and edits the many professional publications that streamline processes, launch products, and promote each client's brand.
Her formal education includes a Bachelor of Arts degree in English and Secondary Education, a Master of Arts degree in Literacy Journalism, and additional courses in curriculum design and development, group dynamics, information studies, publication management, and project management.
She has authored Career Success in 12 Easy Steps: A Journal; A Bisl of This, A Bisl of That: Eating Our Way; and Living Well in Froggy's World of Plenty: Sweet Talk to Read Aloud. These books are available through online stores, including Amazon.com.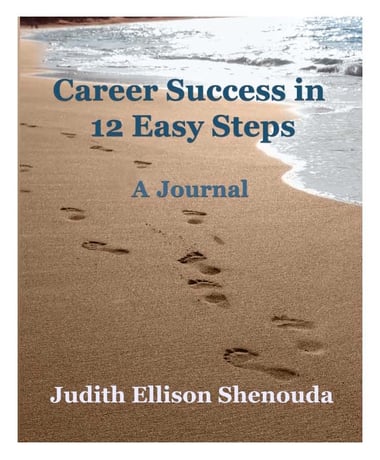 To learn more about the author, her business, and her books, visit her website, her blog, and her Amazon author page.
She can be reached at Shenouda@easescommunication.com