Bill Gates coined this phrase Content is King in 1996, and it has proven to be very accurate since. Content plays a vital role in digital marketing and internet presence of your brand or business. Not only is it used to rank websites, but it is also essential to build brand reputation, trust, and expertise.
The Internet is full of content, and with every passing day, it is becoming difficult to stand out from the crowd. Paying attention to your content can help you increase your profits and reach significantly. Although you may think that content is restricted only to words, that's not the case, instead content includes:
Written words
Pictures
Audio
Video
Visuals
Having a wholesome content includes giving people a detailed insight with pictures, infographics, stats, audio, and video clips so that they can get a better idea and can thoroughly enjoy what they are reading. You can use content to attract masses towards your website, general blog, e-commerce platforms, etc.
Why Is Content Important?
Still, wondering what impact can content create for you? Let's have a look at some insights to get a better idea about why content is important:
4 out of each 5 Americans access online content every day
ROI on content marketing can be thrice the amount on paid search
Content marketing saves 60% of the budget in comparison to conventional marketing
3 in 4 consumers prefer informative content
More than 20% of social media posts have a link to a blog post
4 in 5 consumers mute or skip paid ads
By the end of the year 2020, the Content marketing industry is expected to be worth $400 billion
These stats show us the change in consumer behavior trends; consumers don't believe in paid ads anymore; they seek authentic information about a brand or service before consuming their products. Therefore, creating useful and authentic content is essential to the growth of a business in 2020.
How to Keep Readers Engaged?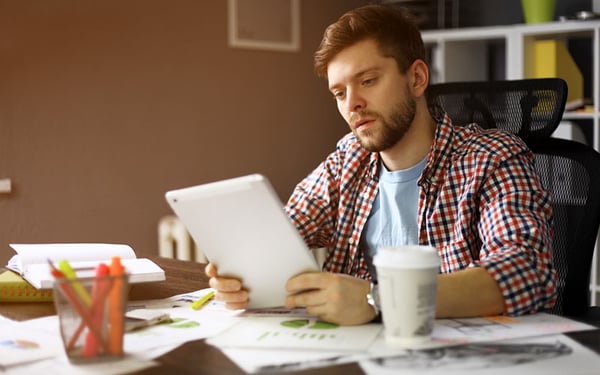 Millions of blogs are being written every day on the same topic across the globe. However, not everyone is worth a read. Keeping your reader engaged through your content is the key that a lot of people fail to grasp.
We have collected four easy and simple ways through which you can keep the reader engaged in your posts:
1. Understanding Your Audience
Before you start writing, you need to understand your audience; their needs and preferences. It is imperative to not only understand what content the audience is searching for, but making it according to their need is the key.
Research about your audience first, enter the keywords on Google, and see what your audience is most interested in. You can use various online platforms such as Quora to identify what your customer wants to know. Consider the following questions when conducting market research:
Who is your target audience? (age, gender, geo-location)
What are they looking for
How can your content answer their questions
This way, you can make your content articles better and more relatable with the needs of your audience.
2. Catchy and Precise
No one likes to read a long draggy article. According to research, the attention span of the average human has dropped to 12 seconds. Therefore, people nowadays scan the article before deciding whether it's worth their time. If your article fails to grasp their attention within 12 seconds, they close the window and move on, which is why you must make your article interesting but precise.
Do the following to give your article a catchy start:
Start with an interesting fact, statistic, or anecdote.
Keep it simple and easy to understand.
Create attention-grabbing headlines
Give precisely the information that is needed rather than adding extra information, which does not add any value to the article. For example, Carpet Cleaning London, a carpet cleaning service business, noticed that their blog posts regarding cleaning hacks containing graphical instructions did better than long-form articles. They noticed that a small 500-word article with infographic got more consumer engagement than longer blog posts.
Therefore, it's a smart idea to include visual content such as posters, stats through bar graphs and pie charts, or a relevant video in your blog/article. Finally, always give credit where credit is due otherwise its plagiarism. Always cite the source of your information and make sure that you use credible sites only.
3. Format
Pay attention to the format you follow for your articles, so it gets easier for the reader to get a full grasp of what you have written. Long runny paragraphs are hard to read, which is why you must follow a format to break the information is smaller chunks.
When writing content, keep the following in mind:
Keep your paragraphs small; 2 -3 sentences are ideal, but you can also go for 4 – 5 sentence paragraphs.
Break down your content into headings and sub-headings to increase readability
Ensure coherence throughout the article
Provide an introduction and a conclusion
Use bullet points as they are easy to scan and create interest as the reader can quickly go through them.
4. Share Your Content
So, you crafted a well-written article, and you have published it on your blog/website. But what happens after that? Nothing. No views, no reposts, no comments. This is because no one is aware that you shared a blog post on your website.
This is why you need to make your blog post is accessible to people and that it appears in their top search results. A straightforward way to do this is to share your article on your social media handles, including Facebook, Instagram, LinkedIn, etc. Posting on social media makes your content visible to a broader audience, and so increases the probability of viewership and engagement.
Moreover, using relevant hashtags under social media can also help your article attract a newer audience. You can also use email marketing to expand the reach of your article as more people who have signed up for your website could gain access.
Finally, use the relevant search engine optimization (SEO) strategy to give your content the boost it needs. Without SEO, your content will get lost in the sea of content online. You must insert the relevant keyword and optimize your content to make it visible to the right audience.
Conclusion
Research shows that businesses that include a blog on their website receive twice the traffic and more email inquiries than firms who don't. Therefore, content is an essential component of your marketing strategy. To get qualifiable leads, you need to make your content worth reading.
Write well-researched, engaging, and optimized content to attract the attention of your target audience. Do you have any more tips for us? We would love to hear your input!
Author bio: Shaheryar Sadiq provides ghostwriting and copywriting services. His educational background in the technical field and business studies helps him in tackling topics ranging from career and business productivity to web development and digital marketing. He occasionally writes articles for **[Carpet Cleaning London](https://www.carpetbright.uk.com/carpet-cleaning/london/)** .
NOW ON SALE!