If you read the title of this post and wondered what journaling has to do with being a victim of fraud, I can attest that it is a very important step in the healing process. Often, victims of crimes blame themselves for what's happened, and journaling can help victims see they've done nothing wrong.
Earlier this month, I was a victim of credit card fraud for the third time this year. This time the fraud happened on my business credit card, which I keep stored in my desk drawer. I was angry and confused as to how this happened. I run my business online, and it's likely that a site I shop at was hacked and the fraudster gained access to my credit card number.
The previous two instances of fraud, I'm pretty sure I know what triggered it, and I will share this with you so you can avoid falling prey to similar scams. But first, a little reminder about my background so you know where I'm coming from.
Before I started writing, I was an accountant. I gave identity theft presentations in my community as part of a financial literacy program I volunteered with. I'm so passionate about this topic I even created a Skillshare class about how to protect your business from identity theft and fraud.
So, given all this information, I was so furious with myself that some hacker was using my credit card. Did you know that fraudsters only need two pieces of personal information to steal your identity? These two pieces could come from any number of things you may have stored online through sites you shop at.
You can prevent fraud by being diligent about updating your passwords, never using a public computer to access personal information like your banking records, and only shopping at websites that you can confirm are legitimate. This last one is becoming exceedingly difficult and is how my credit card information was accessed the first two times the first two times I was a victim of fraud this year.
Scam #1
One late night, I was surfing the web, not really looking for anything specific when a headline caught my eye. It was talking about a Dragon's Den product so promising that the judges were fighting over who was going to fund it.
I clicked the link and read the story. The product, a magical face cream, was created in Canada by Canadians. There were photos from Dragon's Den with the supposed creators of the face cream and there were before and after photos of the transformation the cream made on facial skin. After just one application!
This should have been my first warning that this was a scam. If it seems too good to be true, it probably is! I let my vanity get the better of me, plus, I said to myself, I'd love to support these Canadians who are from the same hometown as my husband. What a coincidence!
Ugh! So I entered my credit card number and two days later, my credit card company alerted me to several fraudulent transactions on my account, and I started receiving all kinds of spam emails. Surprisingly, the face cream arrived as promised, so I wasn't able to get a refund for that transaction, but thankfully, all the fraudulent charges my credit card company identified were reversed.
So, you would think I would be more careful now that I had to cancel my card and start using a new one. Enter Scam #2.
Scam #2
I have to give the fraudsters in this scam some credit, because it seemed pretty brilliant. Last month, as the weather was heating up, I started seeing ads on YouTube for a portable air conditioning unit small enough it would fit on my desk. The idea was you could move it around the house to keep you cool no matter what room you were in.
I clicked on the website listed in the ad, and it seemed legitimate and the price was exceptionally low. This is where my fraud radar should have started going off, but I thought the air conditioning unit would make a great gift for my husband who's always so hot in the summer.
After filling out the order information and clicking the "buy now" button, a message popped up on the screen telling me my credit card had been declined. Face palm. Not again! I checked my card balance and noted there was no reason for the card to be declined. Now, my fraud radar was triggered, so I decided I wouldn't order the air conditioner.
About an hour later, I received a text saying that it was too bad my order didn't go through and I should click the link in the text to complete the transaction. There was no question in my mind now that this was a scam. Never click links in texts from people you don't know (and sometimes even if you know the person).
I called my credit card company and they told me I had to wait until the estimated delivery date of the air conditioner until I could dispute the transaction and they advised me to contact the company directly. Surprise, surprise. The website I had been trying to order from was no longer there.
The next time I saw the ad on YouTube, I clicked the link hoping I could contact the seller that way, but it was a completely different website. These people had gone to a lot of work for this scam.
It has now passed the time when my air conditioner was supposed to arrive and it seems like my credit card company is going to refund the purchase price. By the way, I never did re-enter my credit card info after I got the initial message that my card was declined so I found it interesting that they still charged my card.
So, how does all this tie into journaling? Well, I was angry (mostly with myself but also with the jerks who charged my credit card). I also felt horrible about myself, especially this third time when I had no idea how my credit card info got out. The first two times, I could see how I'd screwed up, but this most recent time, I really felt violated.
I opened a fresh page in my journal and wrote the answers to the prompts you'll find below. I also used some affirmations to build up my self worth that had taken a beating.
Affirmations
I manage my money well.
I am in control of my money.
It is safe for me to make money.
I do the best I can with my money each day.
These affirmations came about as reversals to the negative thoughts I was feeling about myself. If you're trying to come up with some affirmations for yourself, flipping negative thoughts around is always a great place to start.
Journal Prompts
These are the main questions I wanted answers to when I found out my credit card had been used fraudulently yet again. If you've had something similar happen to you, you may have questions of your own come up. Write them down and journal your answers.
Why did this happen to me?
In my case, I journaled about why this keeps happening to me. Sometimes it feels like I do all I can to keep my money safe online and scammers can still access it. As I wrote my answers to this question, I realized that I had slipped up and hadn't done all I could to keep my money safe.
Is it easy for people to steal my money?
As I was thinking about how I manage my money, I asked this question, because I wanted to figure out if there was something specific I was doing that was making it easier for people to use my credit card unauthorized. Turns out I wasn't being as careful as I could have been about where I was shopping online. If you have any doubts about a site being secure or legitimate, don't use it.
How can I prevent myself from becoming a victim of fraud in the future?
In a way, this question is a recap of the previous two, but it was a good reminder about how I can be more vigilant with how I use my money online in the future. If you ever suspect fraudulent activity involving your bank or credit card accounts, call your bank immediately and have your cards cancelled.
Unfortunately, we live in a world where most of our financial transactions happen online and fraud is more prevalent now than ever. Sometimes it just happens and there's nothing you can do about it. But being proactive and knowing how you can prevent fraud and protect yourself online will go a long way to ensuring you don't become a victim.
If you do find yourself a victim of fraud, you're certainly not alone. Crooks are smart and you may have done everything to protect yourself and they still managed to gain access to your credit card. Most governments maintain a list of current scams. Here are the fraud alert sites for the U.S. and Canada. At these sites, you can report scams as well as view current scams.
U.S.: https://www.usa.gov/stop-scams-frauds
Canada: https://www.antifraudcentre-centreantifraude.ca/index-eng.htm
*****
From Mari:
Please comment below on how this Money Matters column has helped you.
Also, leave your suggestions for future topics you'd like to see discussed.
#JustWRITEON!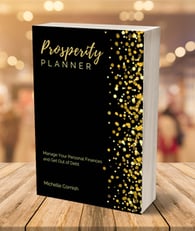 Author bio: Michelle Cornish is the author of Prosperity Planner: Manage Your Personal Finances and Get Out of Debt, an undated planner where she shares more about her personal financial journey and her TREE Method for keeping her personal finances in check.