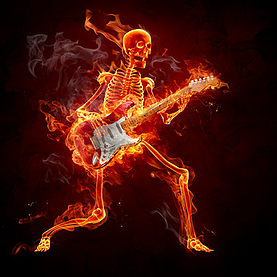 Halloween is coming up next week, and though this is a holiday mostly for children, that doesn't mean adults can't get in on some of the fun. You may be too old to go trick-or-treating, but you can get into the spooky spirit with Halloween journaling.
Boo! 5 Journal Prompts for Halloween
1. Masks and Masquerades
It's fun to put on a disguise for a Halloween costume party because you can make believe that you are a terrifying zombie, a mischievous cartoon character or a regal king or queen.
But what about the figurative masks and disguises you sometimes wear in your real life? Think about the occasions when you cover up your true feelings, motivations or characteristics and describe them for your journal. Why do you use these disguises? How do you feel about them? Do you want to change your behavior, or do you think it is necessary? Why?
2. A Scary Story
Start with the traditional first line, "It was a dark and stormy night…" and write your own Halloween story. Make it bone-chilling, introspective or hilarious, just use your imagination to weave a good tale. If you are inspired to write more, you can use this idea for several journal prompts and create a collection of Halloween stories.
3. Just Jack-o-Lanterns
Channel your inner artist and carve a masterpiece on a pumpkin. When you have finished, write about your jack-o-lantern creation in your journal. Did you make a creature, a person, a pattern or a different kind of artwork? Why did you choose it? What does it look like? If your jack-o-lantern could speak, what would it say?
4. Halloween Memories
Think back on all of the Halloween celebrations of your past. Which was the most memorable? Why? Journal about it, describing what costume you wore, what you did, who you were with and what emotions the memory stirs up.
5. Film Fears
Horror movies often play on common fears, from masked men hiding in closets to deadly creatures attacking in the woods. Write about the scariest movie you have ever seen. How old were you when you watched it? What about it was so terrifying? Would the movie still scare you if you watched it again now? Do you like scary movies or not?
Which of the Halloween journal prompts did you choose? Share your boo-tiful responses and journal samples in the comments.