273 Journal Prompts...and Counting
Looking for inspiration? Use the journal prompts below when you need some ideas to get your journaling juices flowing!
A journal prompt is simply an idea to help you get your writing started. As you read the prompts below, stop when you find a topic that grabs you and begin to write. Don't feel restricted by the topic! Let your pen take over and follow where it will lead...
Every week, you'll find a new journaling prompt on this page -- so check back often! And view earlier journaling ideas here.

***********
New Prompts added weekly!


Here are the Most Recent Journaling Prompts: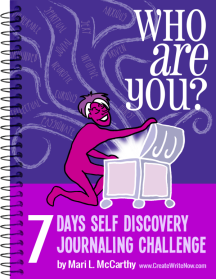 Identify something that you love, whether it's a person or thing. Something that you love deeply, with a love that includes both mystery and a feeling of eternity. Something like your child, or the sky, or traveling, or your home, or playing the piano. Journal extensively about it. Describe the object of your love and also describe the sensation of love within you. Again, take more than enough time to do this journaling. You may even want to reserve a Love Section in your journal. #WriteON!
Read More