"We are buried beneath the weight of information, which is being confused with knowledge. Quantity is being confused with abundance and wealth with happiness." – Singer/songwriter Tom Waits
We live in a world today, paradoxically, in which the more "stuff" we have, the less happy we are. Consequently, low self-esteem is on the rise, fueled for many by unhappiness, self-doubt, and frustration that they don't feel as content and self-satisfied as they would like.
For some, especially older people, entering a new period of their life can trigger self-esteem issues. A mid-life crisis, empty-nest syndrome, retirement – all of these are issues that can suddenly have individuals questioning their self-worth. The looming specter of illness and mortality can subject an older person to fear and anxiety – who am I now and what's next? All of this can wreak havoc with confidence in their self-worth.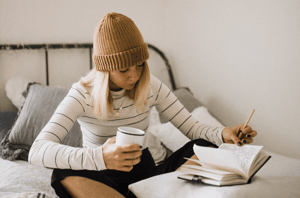 So what causes low self-esteem and a diminished sense of self-worth? Clinical psychologists will tell you that low self-esteem is frequently traced to abusive or dysfunctional early years, the effects of which can persist well into adulthood, as one of my clients, Alison, so clearly describes in a blog post. It can also be attributed to ongoing stressful life events such as relationship breakdowns; financial troubles; poor treatment by a partner, parent, or caregiver; being bullied; or being in an abusive relationship.
Left unchecked, low self-esteem can create mental and physical problems that can manifest themselves in many ways, including:
Self-loathing - While there are times when we all dislike who we are, loathing your thoughts and actions is a classic sign of low self-esteem. Self-hate is characterized by feelings of anger and frustration about who you are and an inability to forgive yourself for even the smallest of mistakes.
Perfection obsession - Perfectionism is one of the more destructive aspects of low self-esteem. A perfectionist is someone who lives with a constant sense of failure because their achievements, no matter how impressive, don't ever quite feel good enough.
Negative body image - This can especially affect women. A negative body image is often linked to low self-esteem and vice versa. It can affect every aspect of your life, from how you behave in relationships, to how you project yourself at work and in your personal life. It can even prevent you from taking care of your health because you might feel that your body is defective anyway and not worth the effort.
Having nothing to offer - We all feel inadequate in certain areas and times of our lives, but a deep-rooted sense of worthlessness comes from believing that somehow we are not as valuable as other people and we have nothing to bring to the table in most, if not all, situations.

Oversensitivity - Being too sensitive is one of the more painful aspect of low self-esteem. Whether you're quick to anger over the slightest criticism or annoyed by otherwise innocent comments, oversensitivity can be a major stumbling block to developing healthy relationships.
Fear and anxiety - Baseless fear and a belief that you're powerless to change anything are directly linked to low self-esteem.
Pleasing others - An overwhelming need to please others in a misguided way to get them to respect, like, or even love you can be exhausting and leave you feeling used and manipulated.
Low self-esteem can cause you to make self-destructive decisions such as accepting mistreatment or harming yourself through addiction (as another client, Ollie, expressed so well in another post) promiscuity, developing eating disorders, or indulging in unnecessary cosmetic surgery. It can even cause you to harm others through actions such as bullying and cheating in an effort to make you feel better about yourself.
Let's face it -- any negative life event or reaction can cause you to doubt yourself. That's only natural. We all have times when things do not go as we think they should. However, persistent negativity and self-doubt are indicators of low self-esteem and need to be addressed. The world can feel lonely and trying to find the right resources to help can be daunting and even confusing. Fortunately, there is help available from a wide range of public and private sources. But the first place to start is within yourself.