Meet Mari - The Journaling Guru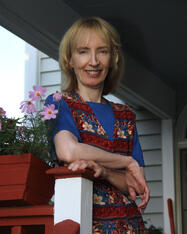 Hi, I'm Mari L. McCarthy, Founder and Chief Inspiration Officer of CreateWriteNow.
I thank Multiple Sclerosis (MS) for introducing me to Journal Writing Therapy which I now call 'Journaling for the Health of It'.
About 18 years ago, I lost the feeling and function of the right side of my body and I had to learn to write with my left hand. I began using a journaling technique called Morning Pages which started my personal transformation.
As I wrote, my MS symptoms improved, but more importantly I uncovered, discovered and recovered my true Self and tapped into talents I never knew I had.
Thanks to my daily writing practice, I've now created a perfect life at my Boston beachfront home, where I can enjoy my great loves: writing, singing, reading, walking my beach, meditation, photography, organic dark chocolate, the Pittsburgh Steelers, and raising roses and consciousness!
The right side of my body is now 75 percent functional and I no longer take any prescription or over-the-counter medications. I haven't carried health insurance in over 12 years. I've not been sick in over 6 years thanks to my journaling which guided and supported me in making major dietary changes: no gluten, no dairy and no processed foods. I write with both hands, and thanks to my daily pen-to-paper journaling, I routinely sleep through the night for seven or eight hours. My energy increases each day. My Journal and I are work, work, working on accomplishing my 2016 Goals: Heal My Body, Grow My Voice, and Transform My Business.
And,,,Through journaling, I rediscovered my passion for music, and my dream of becoming a singer. I just released my third album 'Lady With a Song', I'm starting work on my fourth album: Boy Ballads.
You can buy my best-selling first book, "Journaling Power: How To Create The Happy, Healthy Life You Want To Live" Write Here! You can also read my published articles here or view podcast here.